Quick Dial options (if configured) can be accessed by tapping the Quick Dials module at the bottom left of the app screen. This is also the default view after signing in to the mobile app.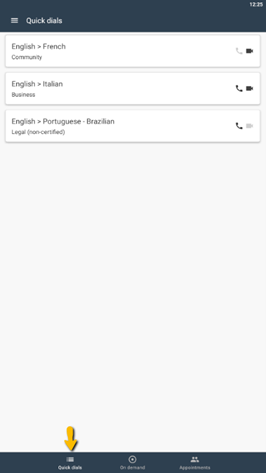 To place a call using Quick Dials, tap the Quick Dial option that matches the language, service type, and communication type (OPI and/or VRI) you wish to use. After choosing an option, set your gender preferences and select either Audio (to place an OPI call) or Video (to place a VRI call).
Note: Audio and Video options will depend on what communication type is configured for the Quick Dial option. You can see which communication type is available based on whether the icon is greyed out.