Our step-by-step guide shows how to add an on-demand,
audio interpreter to your next Zoom virtual meeting
Zoom for OPI integration with the Boostlingo platform offers a unique way for interpreters to join an ongoing Zoom session. Whether accessing your own internal interpreter teams or the Boostlingo Professional Interpreter Network, Boostlingo's routing engine will find the appropriate resources and automatically dial an interpreter to join your next session.
Clients can add one of 15,000 live on-demand interpreters, speaking more than 250 languages, to their next Zoom meeting. Need another interpreter? With Zoom for OPI integration in the Boostlingo platform, clients can add multiple interpreters to the Zoom virtual meeting!
Our interpreters are medically and legally trained. Connecting with one of our interpreters is secure, meeting the high demands of the health care, legal, and finance industries and can be accomplished in just seconds.
Using internal interpreters? By using interpreters that are a member of your organization, you can more easily control routing to interpreters, such as prioritizing certain interpreters over others as well as placing interpreters on the Do Not Call list for any given account.

The following instructions show you how to add an interpreter to your next Zoom virtual meeting.


Note:
Zoom for OPI integration requires Zoom Pro, Zoom Business, or Zoom Enterprise. Zoom Basic (non-paid) is not supported.
This feature needs to be enabled for the account by the LSC admin. Only a specific list of interpreters created by an LSC admin can be used. Scheduled OPI and VRI calls are not yet supported.
Zoom for VRI (Video Remote Interpretation) is now an available option when configuring the Zoom integration. To learn more about the Zoom for VRI feature, please reach out to your Account Manager.
To use Zoom integration within the Boostlingo platform, you must first enable this feature at the company level. This will allow the configuration of email addresses associated with a language pair and service type on an account-by-account basis or across all accounts.
1. Log in to the Boostlingo platform as an LSC administrator.
2. Select the Configuration module within the left-pane in the Boostlingo platform.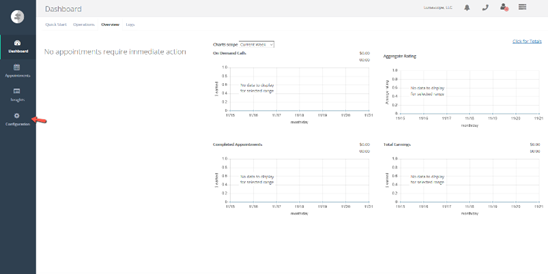 3. Click on the Company tab, then select Integrations from the sub-menu.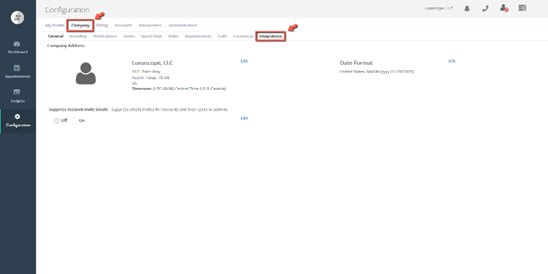 3. Click Edit next to the Zoom integration option.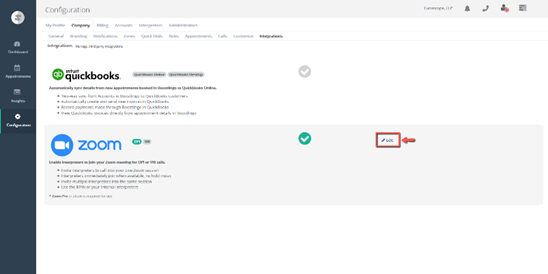 4. Ensure that Zoom for OPI is the selected option, then click Next.

5. Select On to enable Zoom for OPI at the company level, then click Next.

Congratulations, Zoom Integration is now configured and ready to use!